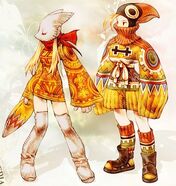 Some call them liars and thieves. Others call them brigands and cutthroats. Still more are referred to as swashbucklers and vigilantes! Whatever they are called, they are an agile-sort of either glibness, quickness, or similar actions. Archers also fall into this category; Most rogues do not like close-quarters combat (or where their enemy can strike back).
Base Stats
Edit
| Prerequisites | MP Mod | HP Mod | Ability |
| --- | --- | --- | --- |
| NONE! | 100% | 100% | -1 difficulty to any and all dexterity based actions. (Automatic) |
Gain Rogue Evasion status of strength 4/5/6. Add its current strength to your dodge results while it lasts.
You must advance to higher jobs to truly test your limits.
Ad blocker interference detected!
Wikia is a free-to-use site that makes money from advertising. We have a modified experience for viewers using ad blockers

Wikia is not accessible if you've made further modifications. Remove the custom ad blocker rule(s) and the page will load as expected.