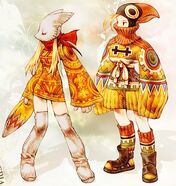 Wielders of powerful arcane magics, mages come in as many types as there are colors(quite literally), however every would-be Black or White mage has to start somewhere - with the basics.
Base Stats
Edit
Prerequisites
MP Mod
HP Mod
Ability
NONE!
130%
90%
Modifier
+30% MP
JP in this job improves the number of improvements one can have in a spell.
Regain 10/15/20% of your MP.
Arcane secrets await you!
Basic Skills
Edit