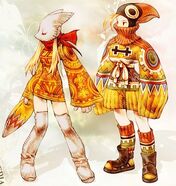 Copy the edit data of this page into the location of the job you are planning to edit. The class description goes here!
Base Stats
Edit
Prerequisites
MP Mod
HP Mod
Ability
Level 2 Mage
Level 2 Monster
100%
100%
When a status effect is resisted, the inflictor may spend 10 MP to force a reroll. Aditional rerolls on the same effect cost 5 MP more(15, then 20, 25..)
Your next negative status inflicted gains 20/30/40% strength for purpose of potency but not resistance.
The next negative status spell cast is at +5/7/10 strength for purpose of resisting. you may not force re-rolls on it
Ad blocker interference detected!
Wikia is a free-to-use site that makes money from advertising. We have a modified experience for viewers using ad blockers

Wikia is not accessible if you've made further modifications. Remove the custom ad blocker rule(s) and the page will load as expected.