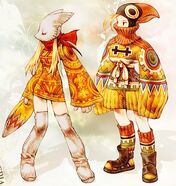 The quintessential warrior. This job is the first step in a profession lined with blood and glory, your foes slain by all manner of personal weaponry ranging from fists to daggers to huge two-handed monstrosities.
Base Stats
Edit
Prerequisites
MP Mod
HP Mod
Ability
NONE!
90%
125%
Modifier
+25% HP
Active this limit (for 200 ATB) when you lose a health level for a 50/75/100% chance of ignoring the hit.
Should you fall in battle with enough TP to activate this limit, you may do so, springing back to action, but gaining a permanent battle scar. -3/2/1 to a random basic stat. Regain 1 health level per 100 TP. Points lost to this effect may be restored for 5 JP each and the assistance of a doctor PC(Who is not the injured party). This ability does not function while a battle scar is still present. Hades will not be denied so easily.
[[Skills