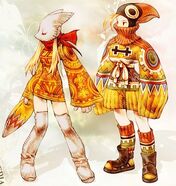 Copy the edit data of this page into the location of the job you are planning to edit. The class description goes here!
Base Stats
Edit
| Prerequisites | MP Mod | HP Mod | Ability |
| --- | --- | --- | --- |
| Level 2 Monster | 105% | 100% | +50% resistance to their primary element, -25% resistance to the opposing element, if any exists. If no opposing element exists, reduce resistance of primary element to +25% |
Gain Elemental Resistance status of 4/5/6 strength. While active, gain +50% resistance to your primary element.
The elements hide their secrets deeper.
Ad blocker interference detected!
Wikia is a free-to-use site that makes money from advertising. We have a modified experience for viewers using ad blockers

Wikia is not accessible if you've made further modifications. Remove the custom ad blocker rule(s) and the page will load as expected.