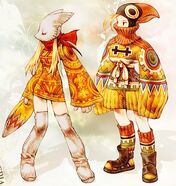 Copy the edit data of this page into the location of the job you are planning to edit. The class description goes here!
Base Stats
Edit
Prerequisites
MP Mod
HP Mod
Ability
Level 2 Mundane
100%
90%
When using expendable items, increase effect by 50%


+synth: More synth points per day.
Use an item for double effectiveness instead of the job's usual +50%. Increase to +150% at 200 and +200% at 300 TP.
Use an item and affect every applicable target on the field(every ally with a healing potion, every enemy with a grenade), But do not get +50% effect. Gain +25% effect at 200 and +50% at 300 TP.