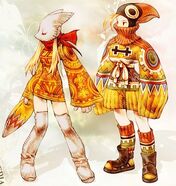 Usually starting out the hard way, they rely on their bodies instead of swords or other weapons. They become tough of body and soul.
Base Stats
Edit
| Prerequisites | MP Mod | HP Mod | Ability |
| --- | --- | --- | --- |
| Level 2 Fighter | 85% | 110% | +10% HP, +15% damage when performing basic brawling attacks(not automatic) |
Your next brawling attack is at -10/15/20% to counter(hamedo, dodge, block, etc).
Perform a basic brawl. For every 10% you beat your opponents attempt to counter, increase damage by 20/30/40%. This attack can breach up to two health levels. This HL penetration does not stack with anything.
Ad blocker interference detected!
Wikia is a free-to-use site that makes money from advertising. We have a modified experience for viewers using ad blockers

Wikia is not accessible if you've made further modifications. Remove the custom ad blocker rule(s) and the page will load as expected.