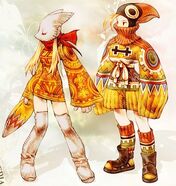 An apprentice in the destructive arts, this is when the black robes are usually first donned. Black mages are valued for their combat ability, wielding dangerously explosive arts of various elements.
Base Stats
Edit
| Prerequisites | MP Mod | HP Mod | Ability |
| --- | --- | --- | --- |
| Level 2 Mage | 110% | 95% | +10% damage from offensive spells. Damaging statuses deal double damage. |
Next spell cast deals +20/30/40% damage.
Remove a negative status from an enemy and convert its remaining strength into twenty times that in black damage. Can penetrate one health level.
Ad blocker interference detected!
Wikia is a free-to-use site that makes money from advertising. We have a modified experience for viewers using ad blockers

Wikia is not accessible if you've made further modifications. Remove the custom ad blocker rule(s) and the page will load as expected.