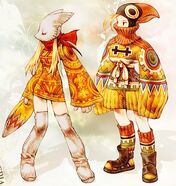 Men and women of Faith. Be it in the All-Father, the Mother Planet or a fanatical cult, these people are driven to their goals. Their abilities range from the martial Paladin to the humble doctor.
Base Stats
Edit
Prerequisites
MP Mod
HP Mod
Ability
None!
105%
100%
Spending a full round consoling a target, the target is freed of any mental ailments at a cost of 5 MP per status. Out of combat, it is a simple but welcomed comfort.
JP in this job improves the number of improvements one can have in a spell.
Used instead of the job bonus, this limit allows the same curing of mental status effects. Effects with a power under 4/6/8 are reflected on their origin, if not self inflicted and physically present.
Target ally gains Mental Resistance status of strength 4/6/8. While active, they may not be affected by mental effects of power 10 or lower. Effects higher than 10 are reduced by 10.